Christmas Carnage comes to town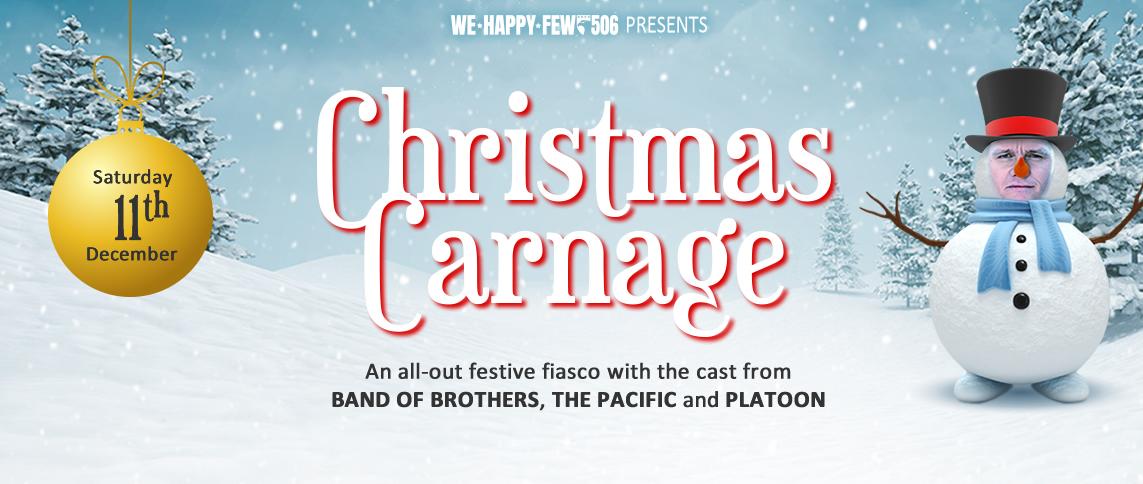 We Happy Few 506 is proud to announce our next live event is Christmas Carnage – and this time we've pulled out all the stops for the festive season. We'll be joined by the cast of Band of Brothers, The Pacific and Platoon – which, we believe, is the first time an event like this has ever been done!
We've wrangled as many guests as possible and the list currrently features Shane Taylor, Robin Laing, Rick Warden, George Calil, Mark Lawrence, Alex Sabga-Brady, Doug Allen, Peter Youngblood-Hills, Scott Gibson, Joshua Bitton, Gary Sweet, Paul Sanchez, Freddie Joe Farnsworth and more to be announced (all subject to availability of course).
Revel in the company of the cast of TWO Emmy Award-winning TV series AND an Oscar-winning movie while we talk about their experiences...
Who had it worse at boot camp?
Who can do the best Christmas roast of Dale Dye?
Who knows more about WW2 history in a head-to-head quiz?
Join us on this live ZOOM event on Saturday 11 December to find out the answers for what promises to be an epic evening of mirth and merriment (also known as sh*ts and giggles).
AND THAT'S NOT ALL!
Because it's Christmas, as part of your ticket purchase we're also bringing you a tour of Bastogne with the renowned historian, Reg Jans. Reg will be pre-recording a wander around the different sites in Bastogne to give you the full story of Easy Company's time in the area as well as an overview of the Battle of the Bulge.
AND THAT'S STILL NOT ALL!!
We're also giving you the opportunity to watch our Band of Brothers 'Bastogne' Reunion featuring Shane Taylor ("Doc" Roe) and Lucie Jeanne (Renée Lemaire) for FREE. You will have access to watch the video any time between 11-14 December using a code included with your main event ticket purchase.
AND THAT'S STILL NOT ALL - AGAIN!!!!
If you buy an event ticket PLUS our brand new The Pacific Challenge Coin, which commemorates both E.B. Sledge and Captain Andrew 'Ack-Ack' Haldane, you will also be in with a chance to WIN a limited edition display case for your coin AND the opportunity to come on the live show and join in the conversation. Five lucky people will be drawn at random to win these prizes.
Phew! So what are you waiting for? Get your ticket and join us for this epic event on Saturday 11 December.
--
Live event starts: Saturday 11 December at 8pm UK / 9pm Paris / 3pm ET / 12pm PT
Lobby opens 1 hour before live event starts.
The Zoom recording and Reg's tour will both be available to watch on Vimeo as soon as possible after the event until 14 December. A link will be included in your ticket purchase.
There are FIVE limited edition display cases to win and TWO opportunities to join us on the live Zoom. That means SEVEN winners in total. Winners of the Zoom prize will be announced during the event. Winners of the display cases will receive an email.
*all guests are subject to availability